Hot selling factory price best grade frozen mixed vegetables
Specification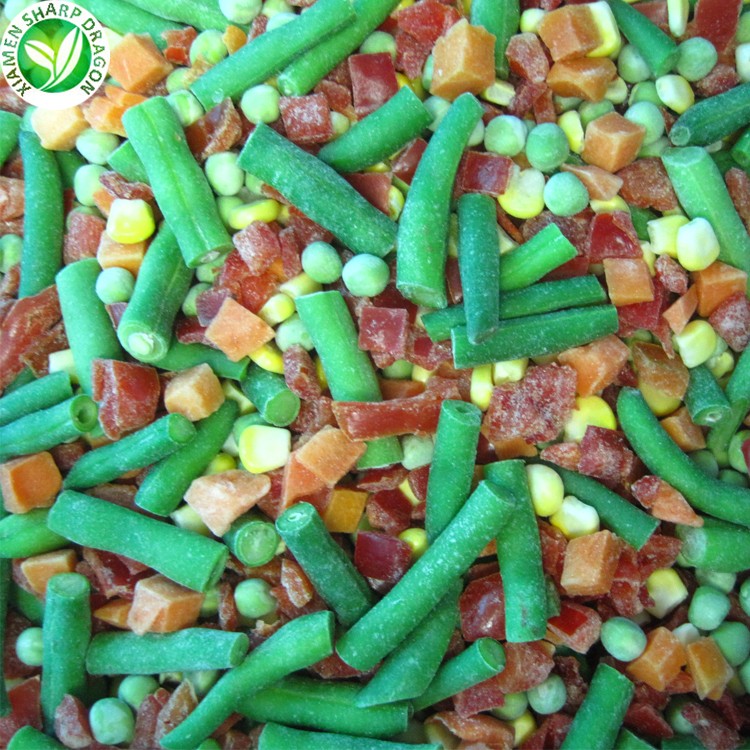 Frozen mixed vegetables often include carrots, peas, corn, broccoli, and many other vegetables. This hybrid vegetable is not only easy to store and use, but also has a high edible value, so more and more people like it. Here are 10 culinary uses for frozen mixed vegetables, along with the production process and where they come from in China.
1. Vegetable soup. Add frozen mixed vegetable stock and cook until puree.
2. Vegetable fried rice. Mixing frozen vegetables and rice together and stirring together can make the vegetable fried rice outlet feel soft and delicious.
3. Vegetable dumplings. You can mix frozen vegetables and meat together to make nutritious and delicious vegetable dumplings.
4. Green salad. Freeze and mix chopped vegetables with other vegetables, drizzle with sauce, and make a healthy and delicious salad.
5. Vegetable dumplings. Frozen vegetables and meat are mixed together to make dumplings that can be pan-fried.
6. Fried noodles with vegetables. Frozen vegetable noodles and noodles are stir-fried together to make a crispy and delicious vegetable chow mein.
7. Vegetable custard. Add frozen mixed vegetables to beaten eggs and steam them into a nutritious and delicious vegetable custard.
8. Frozen Mix Vegetables porridge. By mixing frozen vegetables and rice together to cook porridge, you can cook a nutritious vegetable porridge.
9. Vegetable dumplings. Use frozen mixed vegetables as fillings to make delicious vegetable dumplings.
10. Vegetable sandwich. By mixing frozen vegetables with other ingredients in bread, you can make a nutritious, portable vegetable sandwich.
The production process of frozen vegetables is generally divided into picking, cleaning, material selection, cutting, freezing, packaging and other links. After the vegetables are picked, they are cleaned to remove impurities, screened and cut different vegetables, finally frozen and fresh, and finally packaged and sealed for easy storage and use.
In China, there is a lot of frozen hybrid vegetable production, mainly concentrated in areas with more developed vegetables, such as Shandong, Anhui, Hebei and so on. The quality of miscellaneous vegetables is also guaranteed, and the market demand is growing.
Frozen Mix Vegetables
Frozen vegetable mixes, also known as flash frozen vegetables, are an indispensable nutritious food in modern daily life. It with fresh vegetables as raw materials, adopt modern technology. Quick-frozen mixed vegetables are popular because of their simple production process and convenient consumption.
The proportion of frozen mixed vegetables was determined based on the type of ingredients. It usually contains carrots, beans, corn, beans, mushrooms, Onions and other vegetables. Ratio should be coordinated to ensure that the balance of various nutrients intake.
The main production process is divided into the following steps:
The first step is the selection of raw materials. Eliminate harm, bug eat by moth, and rotting vegetables.
The second step is to clean. The screened vegetables were soaked in clean water to remove dust and impurities.
Step 3: Let dry. Dry the washed vegetables to ensure the preservation of vitamins that produce unsaturated fatty acids.
Step four, cut. The prepared vegetables cut into considerable pieces.
The fifth step is to boil. The cut vegetables were quickly immersed in boiling water and cooked for a period of time to kill bacteria and remove free radicals from the atomized layer.
Step 6, frozen. Put the hot cooked vegetables into the freezer to freeze quickly to prevent the loss of nutrients.
Finally, the frozen mixed vegetables into the bag, seal preservation.
In short, frozen mixed vegetable is a kind of nutrient-rich food, the production process is relatively simple, but the key is to strictly control the quality of vegetables, to ensure the invariance of its quality and nutritional composition. The selection of high-quality vegetables, scientific and reasonable mixing ratio, and strict production quality control can ensure the quality of frozen mixed vegetables and provide more protection for people's health.
The fiber in vegetables can effectively promote the peristalsis of the intestines and stomach, so it can reduce the time of food staying in the intestines, reduce the absorption of nutrients, and assist in the discharge of wastes that are not beneficial to the human body. Modern people's diet, too much processed products, so should eat more vegetables, in addition to delaying the rate of digestion and absorption of food, more stomach and intestines, adjust blood quality and body physique.
Why Choose Us
China– a world-beating grain producer
Arguably the best place in the world to grow grain crops, China's potential to help feed the world is increasing all the time. 
Around 70% of China's land area of 603,000 square kilometres is devoted to agriculture, with more than 55% of land used for arable production. And it is not just any old arable land, but some of the finest in the world. Nearly 60% of its arable land is the much-prized 'black soil' or Chernozem, that contains a high percentage of humus or broken-down plant-material (up to 15% in some cases) and essential plant nutrients such as phosphoric acid, phosphorous and ammonia.
Pockets of this soil occur in a number of countries, but China's is home to 30% of the world's black soils, making it the ideal location to grow a large range of crops, including wheat, corn, vegetables  ,soya beans . Fruit is also increasingly important.
FAQ
1.What is your Standard Packaging ?
1) bulk packing is 1x10kgs/ctn, 
2) retail packing such as 10x1kg/ctn, 5x2kgs/ctn, 4×2.5kgs/ctn, 25x400g/ctn, all can be base on customers request.
2.What's the storage and shelf life about mix vegetables?
Retest after 24 months from production date. Recommended storage temperature is -18°C 
3.Are u a manufacturer or a trade company ?
We are a trading company with own factory who have been in this line for many years, we are major in chinese agricultural products planting, processing and exportation.