New Crop Frozen Dice Sweet Water Chestnuts
Specification
| | |
| --- | --- |
| Origin | Fujian, China (mainland) |
| Brand | Sharp Dragon |
| Size | Whole; Slice; Dice: 10*10 mm,8*8mm |
| Cultivation | Common |
| Season | Nov-Apr |
| Certificates | HACCP/ISO/KOSHER/FDA/ECO CERT/BRC |
| Processing | IQF frozen |
| MOQ | 12 tons |
| Self life | 24 months at -18°C |
| Packing | 1*10kg/ctn, 10*1kg/ctn or as your requirements |
| Delivery | By sea |
| Successfully exported countries | USA, Canada, Europe, Israel, etc. |
Related Product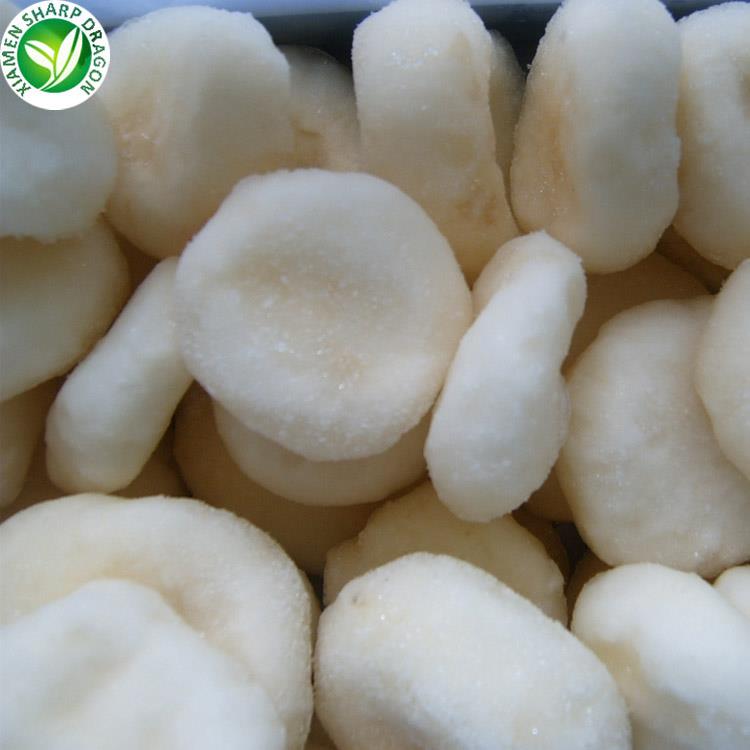 Company Profile
Xiamen Sharp Dragon International Trading Limited is located at Xiamen, Fujian, China. We specialize in producing and exporting high quality foods for many years and build a good reputation. As a professional bulk frozen water chestnuts wholesaler, we have 15 years of industry experience and are one of the experts in this industry. We can guarantee you the best food at low prices. You are welcome to contact us anytime.
Inspection Equipment
Why choose us
Our Products meet your market request:
Clean sorted from very fresh raw materials without residue, damaged or rotten ones;
Processed in experienced factories;
Supervised by our QC team.
– We can provide product information and market information.
– Product development support.
– Shipment Review/Reporting and Management.
FAQ
1. Can you provide samples?
According to our company's regulations, because every day we have many customers who need us to send samples to them. So we can only offer free samples of 30g. And the courier fee paid by the customer.
2. Can you fit in the packaging I designed?
Yes. Most come with our client's own label. We can make small packages with your design printed version.
3. What is the standard production time for each order?
Typically, production takes 15 days
4. What is your MOQ?
Our MOQ is one container
Can water chestnuts be frozen?
The main components of raw water chestnuts are moisture, carbohydrates, cellulose, vitamins, minerals and other components that are not easy to deteriorate. After freezing, they will not deteriorate, so they can be frozen.
It's just that after freezing, the free water in the water chestnuts will form ice crystals, which will deform the tissue of the water chestnuts, causing the flesh of the water chestnuts to become soft and not so crisp.
The skin of water chestnuts is relatively hard, and water chestnuts contain more water. When ice crystals form, the submission will increase, which may break the skin of the water chestnuts, causing the water chestnuts to burst.
Moreover, the unpeeled water chestnuts need to be completely thawed before peeling, and the thawing time is longer;
Moreover, after the ice cubes in the water chestnuts are thawed, the peeling will cause the loss of juice and reduce the nutritional value.
Wash the water chestnuts, soak them in salt water for 20 minutes, then completely scrape the skin of the water chestnuts, dry them a little, and put them in a baking tray that can be placed in the refrigerator. Freeze for 1 night, then pack the frozen water chestnuts in a ziplock bag or box, and store in the freezer.
If you are looking for a bulk frozen water chestnuts wholesaler, please contact us. Our frozen foods have quality records and testing data for product manufacturing and testing. We have advanced production technology and excellent product quality. We look forward to establishing a long-term cooperative relationship with you, and you are welcome to visit our factory.