frozen bamboo shoot top cut price
Specification
Product Name

Frozen Bamboo Shoot

Specification

Frozen Bamboo

Shoot Slice

Package

Outer package: 10kgs carboard carton loose packing
Inner package: 10*1kg/ctn,20*500g/ctn,4*2.5kg/ctn,20*454g/ctn,20*1lbs consumer bag,all can base on customers request.

Standard

Grade A

Brand

OEM, ODM

Price Terms

FOB

,

CNF

,

CIF




MOQ

Any quantity(can be mix loading with other products)

Or 10tons


Loading Capacity

18-25 tons per 40 feet container according to different package; 10-12tons per 20 feet container

Shelf Life

24 months under -18'C storage

Certificate

ISO, HACCP, BRC,KOSHER,HAHAL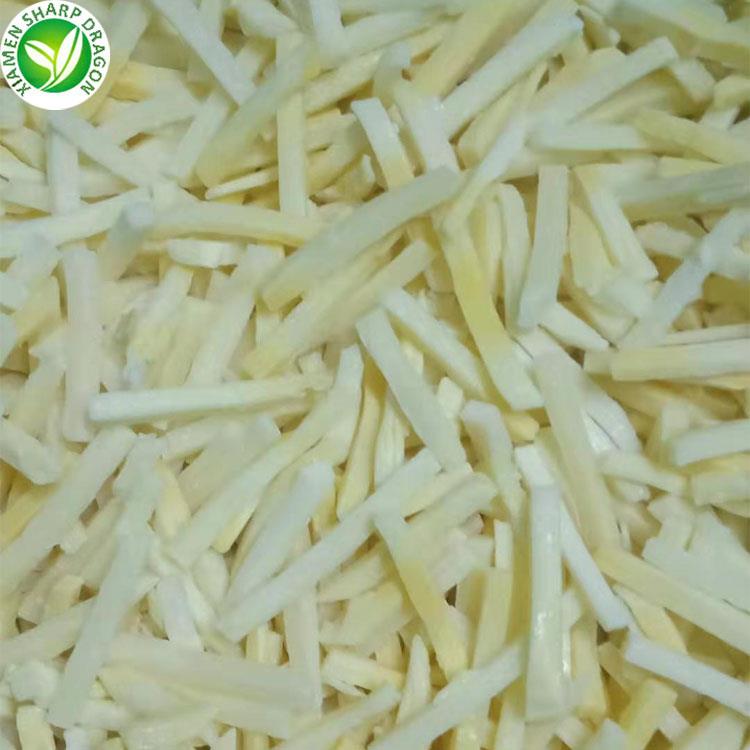 In the past, many people thought that although bamboo shoots taste delicious, they are not nutritious. This perception is inaccurate. Bamboo shoots are rich in protein, amino acids, fats, carbohydrates, calcium, phosphorus, iron, carotene, vitamins B1, B2, and C. The content of multivitamins and carotene is more than double that of Chinese cabbage; Superior, lysine, tryptophan, threonine, phenylalanine, which are necessary for the human body, as well as glutamic acid, which plays an important role in the process of protein metabolism, and cystine, which plays a role in maintaining protein configuration, all have certain The content is an excellent health vegetable. Bamboo shoots also have the characteristics of low fat, low sugar, and high fiber. Eating bamboo shoots can not only promote intestinal peristalsis, help digestion, eliminate food accumulation, prevent constipation, and prevent colorectal cancer. Bamboo shoots contain very little fat and starch. They are natural low-fat and low-calorie foods and are a good product for obese people to lose weight.
Bamboo shoots are rich in nutrients and taste good. It is a high-protein, high-fiber, low-fat organic food that can promote gastrointestinal motility and toxin excretion. Bamboo shoots are rich in protein, amino acids, dietary fiber, various vitamins and trace elements. Bamboo shoots are high-quality raw materials for bamboo shoots. The favorite of the Japanese, especially for the Japanese, it is a must-have for every meal, and must be eaten every day. The frozen bamboo shoot top cut price is affordable. Our professional international trade team has rich experience and can provide you with the best service at any time.
FAQ
1. Q: Are u a manufacturer or a trade company?
A: We are a trading company with own factory who have been in this line since 2004, we are major in chinese agricultural products planting, processing & exportation.
2. Q: What is your payment term?
For first cooperation, it's better to do TT or L/C, after we trust more each other, it's also possible to do DP and Extend your payment days, it is no problem.
3. Q: How can I get the samples?
A: Sample is free, but the flight cost should be negotiated, since frozen foods need to be delivery with dry ice, the cost is expensive, and the freigh cost can be return if order made.
4. Q: What is your sample lead time?
A: Around 5 ~ 7 days after offer confirmed.
5 Q: What is your standard packaging?
A: bulk packing is 1x10kgs/ctn,
B: retail packing such as 10x1kg/ctn, 20x500g/ctn, 4×2.5kgs/ctn, 20x1lbs/ctn, all can be base on customers request.