Wholesale export cheap bulk frozen edamame
Specification
IQF frozen edamame/soybean

Specification: unshelled, in pod

Certificates: HACCP, BRC, KOSHER, GMP
Frozen Soybean in Pods, Frozen Soybeans, IQF Soybean in Pods

Specifications

1. Spring Crop:150-165 pcs/500g ;

2. Autumn Crop:170-185 pcs/500g

Natural Green Color

Clean, tender

Packing

500gx20,1kgx10,10kgs x 1 or in totes

Certifications

ISO, HACCP, KOSHER,BRC, etc.

Others

Quality assured

Season

June to July; September to October

Supply Ability

1200 tons

Brand

the Buyer's brand

Successfully exported to

EU,USA,Russia,Middle East,etc
The edamame is a freshly podmed soybean, native to China, and the most abundant in Pingxiang, Jiangxi Province, with the most special taste. It is rich in plant protein, content potassium, magnesium , vitamins B and dietary fiber are also particularly rich. Bulk frozen edamame is easy to store and can be quickly and easily prepared, making it a convenient snack or addition to meals. Bulk frozen edamame has a longer shelf life than fresh edamame, making it a good option for those who don't have access to fresh produce.
How to save bulk frozen edamame
To save bulk frozen edamame, it's important to store it in the freezer at or below 0°F (-18°C) until ready to use. Here are some tips for saving bulk frozen edamame:
Transfer the edamame from its original packaging into a resealable freezer bag or an airtight container.

Label the container with the date of purchase and the expiration date.

Store the container in the back of the freezer where the temperature is more consistent and less likely to fluctuate.

Make sure that there is enough space around the container to allow for proper airflow.

Try to use the edamame within six months for best quality.

When ready to use, cook the frozen edamame by boiling, steaming, or microwaving it until heated through.
By following these storage tips, you can ensure that your bulk frozen edamame stays fresh and maintains its nutritional value for as long as possible.
Nutrition of bulk frozen edamame
Edamame is a nutritious food that is low in calories but high in protein, fiber, vitamins, and minerals. Here is the approximate nutritional value per 100 grams of bulk frozen edamame:
Calories: 121
Protein: 11 g
Carbohydrates: 10 g
Fiber: 5 g
Fat: 5 g
Sodium: 6 mg
Vitamin C: 16% of the Daily Value (DV)
Iron: 10% of the DV
Calcium: 11% of the DV
Edamame is also a good source of other essential nutrients like vitamin K, folate, and potassium.
It's important to note that the nutritional value of bulk frozen edamame can vary depending on the specific brand and cooking method used. Additionally, some brands may add salt or other seasonings that can increase sodium content, so it's always a good idea to read the label carefully to ensure you are getting a product that aligns with your dietary needs and preferences.
Overall, bulk frozen edamame is a healthy and nutritious food option that can provide various health benefits when consumed as part of a balanced diet.
Be sure to drain the water before freezing, as long as it stops dripping in the sieve, or you're likely to end up with a giant lump of edamame ice.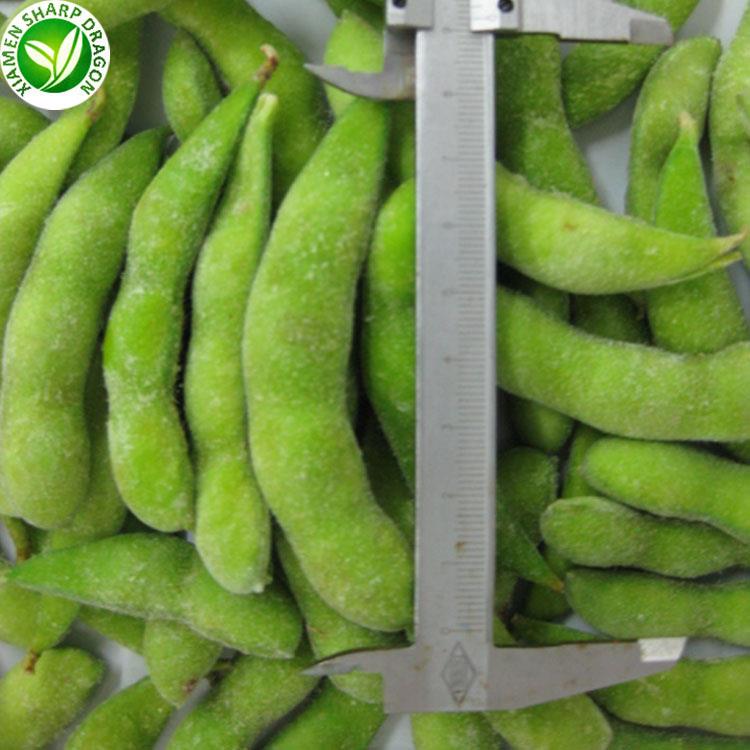 Edamame is particularly healthy. As a snack, it's low in fat and energy, high in dietary fiber, satiating, and guilt-free compared to grilled potato chips.
As ingredients. With as much protein as an egg, more calcium than milk, and plenty of potassium, magnesium, and B vitamins, it's the perfect snacking companion for a punk regimen.
Why Choose Us
Xiamen Sharp Dragon Interentional Trading Co.Ltd. is a leading supplier of IQF food ingredients, mainly to Europe, Middle East, Russia, Southeast Asia and North America. We are committed to meeting customer requirements, service-oriented, and building strong and lasting business relationships with our colleagues and customers, communicating with customers and exploring product knowledge, and we provide consumers with "health, nutrition, safety and deliciousness". "Quality food."
FAQ
1.Q: Can you do packing with our LOGO?
A: Yes, we can do packing details.
2.Q: If we order more quantity, how to solve the freight high problems?
Freeze edamame can shipping by air and sea, if the quantity is more. More details please kindly contact us.
3.Q: Do you have other payment account?
Yes, we have, please kindly contact us.