Mushrooms are rich in selenium. Selenium is an important nutrient for the human body and an important component of glutathione peroxidase. Glutathione peroxidase is a strong reductase, which can powerfully scavenge free radicals in the body, prevent lipid peroxidation, and play an important role in maintaining cardiovascular health, anti-tumor, and anti-aging. Selenium can also improve human immunity and reduce the occurrence of diseases. Mushrooms contain lentinan, which has good anti-tumor and anti-cancer effects. Eating more mushrooms can enhance immunity and increase resistance to diseases. The frozen shiitake mushroom produced by our company uses healthy and safe raw materials, and the product quality is guaranteed. We look forward to building a win-win partnership of trust, integrity, loyalty and satisfaction with our customers.
---
Specification
Origin

China (mainland)

Brand

Sharp Dragon

Cultivation

Common

Size

1)slices:
cap diam.40/60mm,thickness:4-6mm
2)quarter cuts:
cap diam:20/40mm,40/60mm,1/4 cuts
stem:without stems/about 5mm

Season

Oct to next June

Certificates

HACCP/ISO/KOSHER/FDA/ECO CERT/BRC

Processing

BQF frozen,blanched, unblanched

Self life

24 months at a temperature of -18°C

Successfully Exported countries

USA, Canada, Europe , Israel, and Etcetera.
---
Common cultivation unblanched BQF sliced

frozen

shiitake mushroom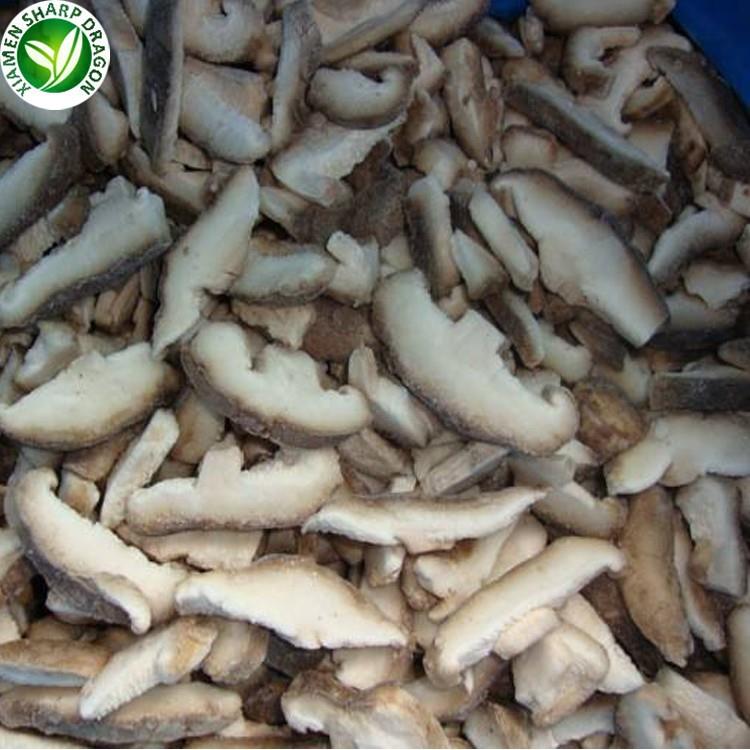 Why choose us
Our company is a professional provider of IQF food, mainly to Europe, Middle East, Russia and North American markets.
Only fresh and clean products, any inferior product don't allow to export for you;
Process-line stickly under HACCP system;
QC team test products and offer inspection table for you.
FAQ
1.How can I get the shiitake mushroom samples?
Sample is free, but the flight cost should be negotiated, since frozen foods need to be deliver with dry ice, the cost is expensive, and the freigh cost can be return if order made.
2.I'm a personal buyer, do you support small order with many items?
No problem.
3.What's the delivery term you have?
CIF, FOB, CNF is ok.
How to store frozen shiitake mushrooms long-term
Fresh shiitake mushrooms can be stored by freezing after purchase. The best way to deal with it is to freeze fresh shiitake mushrooms directly in the refrigerator, take them out after 24 hours, and then dissolve them, and let the paper absorb its moisture. Put the fresh shiitake mushrooms into the fresh-keeping bag again, and freeze them directly, so that they can be stored for a long time, and they can be taken out and dissolved when eating.